Stand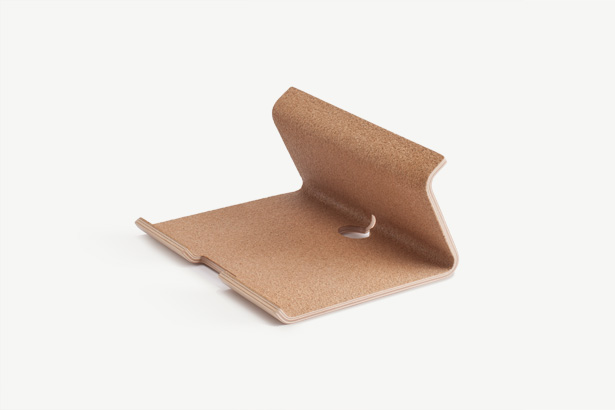 230 x 240 x 130 mm
Compressed plywood with birch veneer, cork
–Suitable for tablet PCs, E-Book readers with a 9.7-inch or larger screen
–Suitable for laptop computers with from a 9.7-inch up to a 17-inch screen that opens more than 130º
Fabricated in Salo, FInland
by Formesa
Ergonomic posture
The Stand lifts the screen at eye level, and thus help you keep your back, forearms and wrists straight. Extra input devices such as a mouse and a keyboard shall be used for a better ergonomic posture when used with a laptop computer.
Flexibility, your device
The versatility of the Stand will accelerate your productivity as it can accommodate most laptop computers, tablet PCs and ebooks readers.
Easy adjustment
Covered with cork, the top surface of the Stand allows you to adjust the angle of a tablet PC screen according to diverse use – be it gaming, writing, or more.
Neat arrangement, instant setting
A hole at the bottom of the Stand helps you to organize cables, while the narrow top-end will hold your cables. No more hassle to set your cables connected to your laptop.